721118 - Letter to Bali-mardana written from Hyderabad
From Vanisource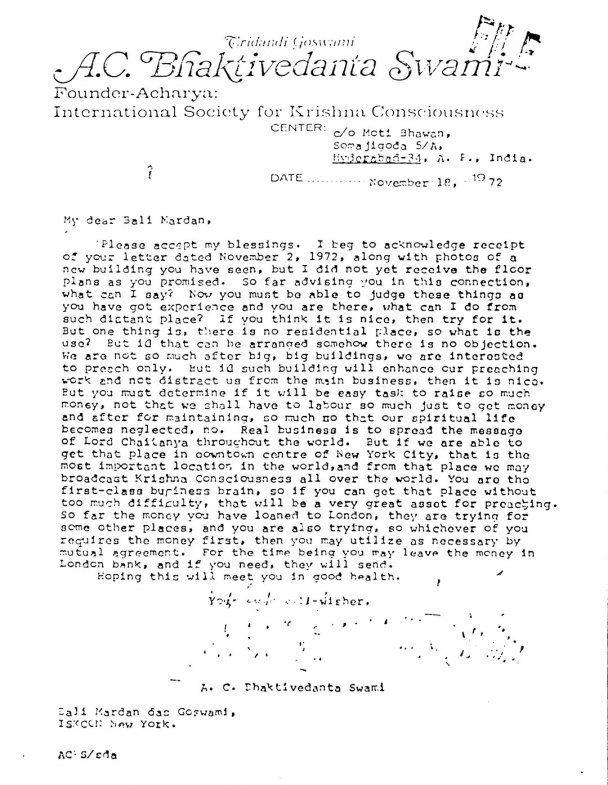 Tridandi Goswami
A.C. Bhaktivedanta Swami
Founder-Acharya:
International Society for Krishna Consciousness
CENTER: c/o Moti Bhawan,
              Somajigoda 5/A.
              Hyderabad-34, A.F., India.
DATE .............November..18,...1972


My dear Bali Mardan,
Please accept my blessings. I beg to acknowledge receipt of your letter dated November 2, 1972, along with photos of a new building you have seen, but I did not yet receive the floor plans as you promised. So far advising you in this connection, what can I say? Now you must be able to judge these things as you have got experience and you are there, what can I do from such distant place? If you think it is nice, then try for it. But one thing is, there is no residential place, so what is the use? But if that can be arranged somehow there is no objection. We are not so much after big, big buildings, we are interested to preach only. But if such building will enhance our preaching work and not distract us from the main business, then it is nice. But you must determine if it will be easy task to raise so much money, not that we shall have to labour so much just to get money and after for maintaining, so much so that our spiritual life becomes neglected, no. Real business is to spread the message of Lord Chaitanya throughout the world. But if we are able to get the place in downtown centre of New York City, that is the most important location in the world, and from that place we may broadcast Krishna Consciousness all over the world. You are the first-class business brain, so if you can get that place without too much difficulty, that will be a very great asset for preaching. So far the money you have loaned to London, they are trying for some other places, and you are also trying, so whichever of you requires the money first, then you may utilize as necessary by mutual agreement. For the time being you may leave the money in London bank, and if you need, they will send.
Hoping this will meet you in good health.
Your ever well-wisher,


A.C. Bhaktivedanta Swami
Bali Mardan das Goswami
ISKCON New York.
ACBS/sda