720913 - Letter to Citsukhananda written from Los Angeles
From Vanisource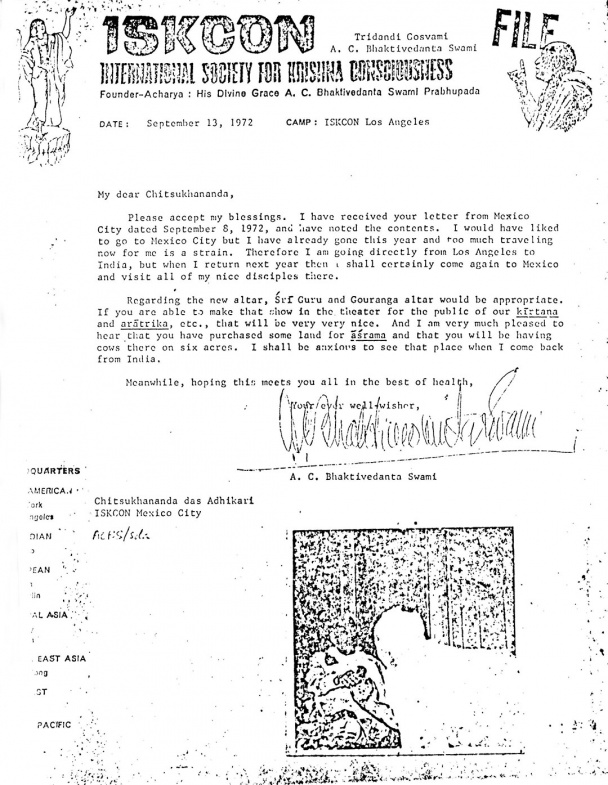 ISKCON
Tridandi Goswami
A.C. Bhaktivedanta Swami
INTERNATIONAL SOCIETY FOR KRISHNA CONSCIOUSNESS
Founder-Acharya : His Divine Grace A. C. Bhaktivedanta Swami Prabhupada

DATE:   September 13, 1972       CAMP:  ISKCON Los Angeles



My dear Chitsukhananda,
Please accept my blessings. I have received your letter from Mexico City dated September 8, 1972, and have noted the contents. I would have liked to go to Mexico City but I have already gone this year and too much traveling now for me is a strain. Therefore I am going directly from Los Angeles to India, but when I return next year then I shall certainly come again to Mexico and visit all of my nice disciples there.
Regarding the new altar, Sri Guru and Gouranga altar would be appropriate. If you are able to make that show in the theater for the public of our kīrtana and arātrika, etc., that will be very very nice. And I am very much pleased to hear that you have purchased some land for āśrama and that you will be having cows there on six acres. I shall be anxious to see that place when I come back from India.
Meanwhile, hoping this meets you all in best of health,
Your ever well-wisher,


A.C. Bhaktivedanta Swami

Chitsukhananda das Adhikari
ISKCON Mexico City
ACBS/sda [handwritten]

HEADQUARTERS
PAN AMERICAN
New Yorkbr /> Los Angeles
CANADIANbr /> Toronto
EUROPEAN
[unclear]
BERLIN
CENTRAL ASIA
Bombay
Calcutta
SOUTH EST ASIA
Hong Kong
FAR EAST
Tokyo
SOUTPACIFIC
Sydney