720105 - Letter to Sudama written from Bombay
From Vanisource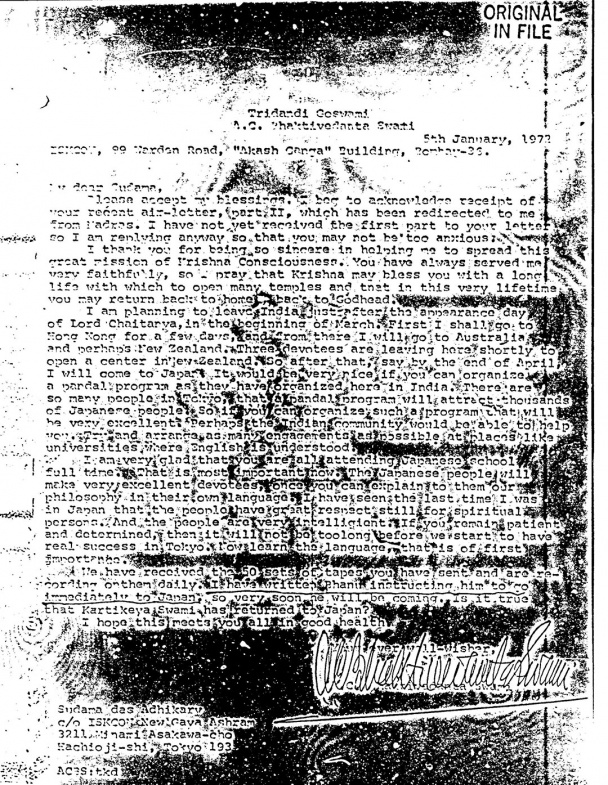 Tridandi Goswami
A.C. Bhaktivedanta Swami
5th January, 1972
ISKCON 89 Warden Road,"Akas h-Ganga" Building, Bombay-36.

My dear Sudama,
Please accept my blessings. I beg to acknowledge receipt of your recent air-letter, part II, which has been redirected to me from Madras. I have not yet received the first part to your letter so I am replying anyway so that you may not be too anxious.
I thank you for being so sincere in helping me to spread this great mission of Krishna Consciousness. You have always served me very faithfully, so I pray that Krishna may bless you with a long life with which to open many temples and that in this very lifetime you may return back to home, back to Godhead.
I am planning to leave India just after the appearance day of Lord Chaitanya, in the beginning of March. First I shall go to Hong Kong for a few days, and from there I will go to Australia and perhaps New Zealand. Three devotees are leaving here shortly to open a center in New Zealand. So after that, say by the end of April, I will come to Japan. It would be very nice if you can organize a pandal program as they have organized here in India. There are so many people in Tokyo, that a pandal program will attract thousands of Japanese people. So if you can organize such a program that will be very excellent. Perhaps the Indian community would be able to help you. Try and arrange as many engagements as possible at places like universities where English is understood.
I am very glad that you are all attending Japanese school full time. That is most important now. The Japanese people will make very excellent devotees, once you can explain to them our philosophy in their own language. I have seen the last time I was in Japan that the people have great respect still for spiritual persons. And the people are very intelligent. If you remain patient and determined, then it will not be too long before we start to have real success in Tokyo. Now learn the language, that is of first importance.
We have received the 50 sets of tapes you have sent and are recording on them daily. I have written Bhanu instructing him to go immediately to Japan, so very soon he will be coming. Is it true that Kartikeya Swami has returned to Japan?
I hope this meets you all in good health.
Your ever well-wisher,



A.C. Bhaktivedanta Swami

Sudama das Adhikary
c/o ISKCON New Gaya Ashram
3211 Mjnami Asakawa-cho
Hachioji-shi, Tokyo 193
ACBS:tkd