711121 - Letter A to Satsvarupa written from Delhi
From Vanisource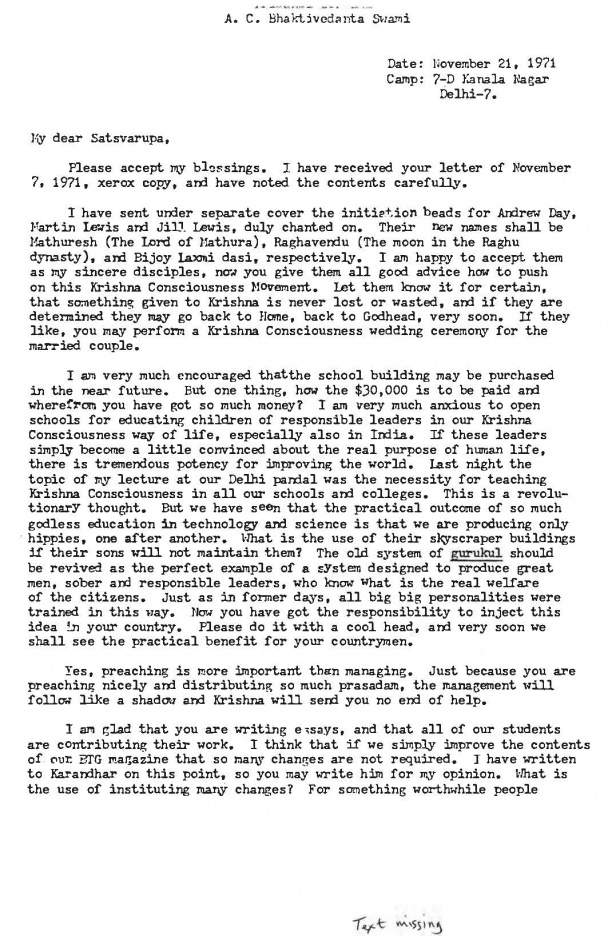 Tridandi Goswami
A.C. Bhaktivedanta Swami

Date: November 21, 1971
Camp: 7-D Kamala Nagar
          Delhi-7.


My Dear Satsvarupa,
Please accept my blessings. I have received your letter of November 7, 1971 xerox copy, and have noted the contents carefully.
I have sent under separate cover the initiation beads for Andrew Day, Martin Lewis and Jill Lewis, duly chanted on. Their new names shall be Mathuresh (The Lord of Mathura), Raghavendu (The moon in the Raghu dynasty), and Bijoy Laksmi dasi, respectively. I am happy to accept them as my sincere disciples, now you give them all good advice how to push on this Krishna Consciousness Movement. Let them know it for certain, that something given to Krishna is never lost or wasted, and if they are determined they may go back to Godhead, very soon. If they like, you may perform a Krishna Consciousness wedding ceremony for the married couple.
I am very much encouraged that the school building may be purchased in the near future. But one thing, how the $30,000 is to be paid and wherefrom you have got so much money? I am very much anxious to open schools for educating children of responsible leaders in our Krishna Consciousness way of life, especially also in India. If these leaders simply become a little convinced about the real purpose of human life, there is tremendous potency for improving the world. Last night the topic of my lecture at our Delhi pandal was the necessity for teaching Krishna Consciousness in all our schools and colleges. This is a revolutionary thought. But we have seen that the practical outcome of so much hippies, one after another. What is the use of their skyscraper buildings if their sons will not maintain them? The old system of gurukul should be revived as the perfect example of a system designed to produce great men, sober and responsible leaders, who know what is the real welfare of the citizens. Just as in former days, all big big personalities were trained in this way. Now you have got the responsibility to inject this idea in your country. Please do it with a cool head, and very soon we shall see the practical benefit for your countrymen.
Yes, preaching is more important than managing. Just because you are preaching nicely and distributing so much prasadam, the management will follow like a shadow and Krishna will send you no end of help.
I am glad that you are writing essays, and that all of our students are contributing their work. I think that if we simply improve the contents of our BTG magazine that so many changes are not required. I have written to Karandhar on this point, so you may write him for my opinion. What is the use of instituting many changes? For something worthwhile people

[TEXT MISSING]