711005 - Letter to Gurudasa written from Nairobi
From Vanisource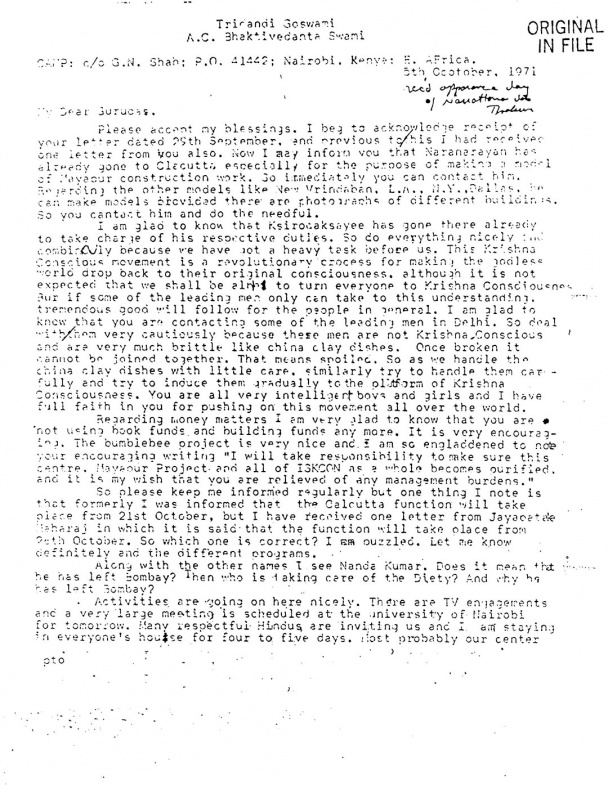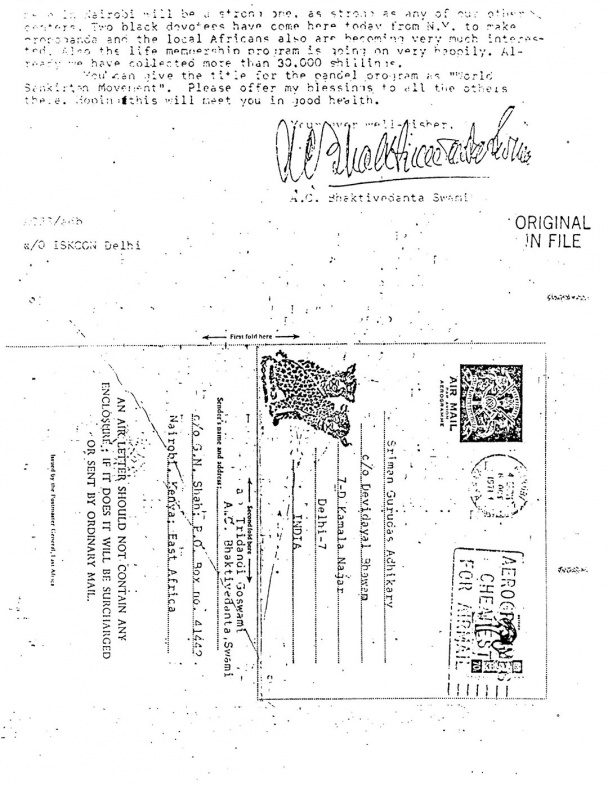 Tridandi Goswami
A.C. Bhaktivedanta Swami
CAMP: c/o G.N. Shah; P.O. Box no. 41442; Nairobi, Kenya; E. Africa
5th October, 1971
[unclear] appearance day of Narrottam das Thakur [handwritten]
My Dear Gurudas,
Please accept my blessings. I beg to acknowledge receipt of your letter dated 29th September, and previous to this I had received one letter from you also. Now I may inform you that Naranarayan has already gone to Calcutta especially for the purpose of making a model of Mayapur construction work. So immediately you can contact him. Regarding the other models like New Vrindaban, L.A., N.Y., Dallas, he can make models provided there are photographs of different buildings. So you contact him and do the needful.
I am glad to know that Ksirodaksayee has gone there already to take charge of his respective duties. So do everything nicely and combinedly because we have got a heavy task before us. This Krishna Conscious movement is a revolutionary process for making the godless world drop back to their original consciousness, although it is not expected that we shall be able to turn everyone to Krishna Consciousness. But if some of the leading men only can take to this understanding, tremendous good will follow for the people in general. I am glad to know that you are contacting some of the leading men in Delhi. So deal with them very cautiously because these men are not Krishna Conscious and are very much brittle like china clay dishes. Once broken it cannot be joined together. That means spoiled. So as we handle the china clay dishes with little care, similarly try to handle them carefully and try to induce them gradually to the platform of Krishna Consciousness. You are all very intelligent boys and girls and I have full faith in you for pushing on this movement all over the world.
Regarding money matters I am very glad to know that you are not using book funds and building funds any more. It is very encouraging. The bumblebee project is very nice and I am so engladdened to note your encouraging writing "I will take responsibility to make sure this centre, Mayapur Project and all of ISKCON as a whole becomes purified, and it is my wish that you are relieved of any management burdens."
So please keep me informed regularly but one thing I note is that formerly I was informed that the Calcutta function will take place from 21st October, but I have received one letter from Jayapataka Maharaj in which it is said that the function will take place from 28th October. So which one is correct? I am puzzled. Let me know definitely and the different programs.
Along with the other names I see Nanda Kumar. Does it mean that he has left Bombay? Then who is taking care of the Deity? And why he has left Bombay?
Activities are going on here nicely. There are TV engagements and a very large meeting is scheduled at the university of Nairobi for tomorrow. Many respectful Hindus are inviting us and I am staying in everyone's house for four to five days. Most probably our center here in Nairobi will be a strong one, as strong as any of our other centers. Two black devotees have come here today from N.Y. to make propoganda and the local Africans also are becoming very much interested. Also the life membership program is going on very happily. Already we have collected more than 30,000 shillings.
You can give the title for the pandal program as "World Sankirtan Movement". Please offer my blessings to all the others there. Hoping this will meet you in good health.
Your ever well-wisher,



A.C. Bhaktivedanta Swami

ACBS/adb
c/o ISKCON Delhi