701109 - Letter to Tulsi written from Bombay
From Vanisource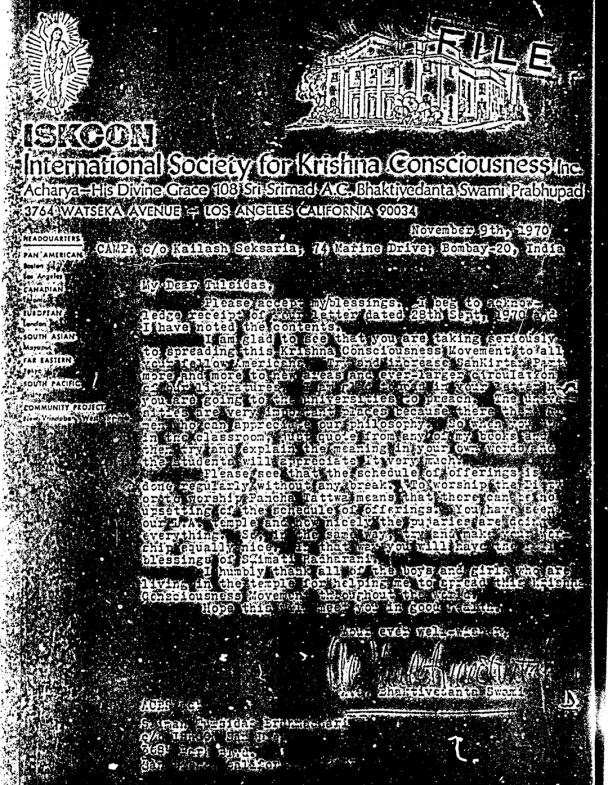 ISKCON
International Society for Krishna Consciousness Inc.
Acharya-His Divine Grace 108 Sri Srimad A.C.Bhaktivedanta Swami Prabhupad
3764 WATSEKA AVENUE - LOS ANGELES CALIFORNIA 90034
November 9th, 1970 CAMP: c/o Kailash Seksaria; 74 Marine Drive; Bombay-20; India
HEADQUARTERS
PAN AMERICAN
Boston
Los Angeles
CANADIAN
Toronto
EUROPEAN
London
SOUTH ASIAN
Mayapur
FAR EASTERN
Tokyo
SOUTPACIFIC
Sydney
COMMUNITY PROJECT
New Vrindaban, West Virginia

My Dear Tulsidas,
Please accept my blessings. I beg to acknowledge receipt of your letter dated 28th Sept, 1970 and I have noted the contents.
I am glad to see that you are taking seriously to spreading this Krishna Consciousness Movement to all your fellow Americans. Try and increase Sankirtan Party more and more to new areas and ever-larger circulation of our literatures. I am glad to read in your letter you are going to the universities to preach. The universities are very important places because there there are men who can appreciate our philosophy. So when you speak in the classroom, just quote from any of my books and then try and explain the meaning in your own words and the students will appreciate it very much.
Please see that the schedule of offerings is done regularly without any break. To worship the Deity or to worship Panca-tattwa means that there can be no upsetting of the schedule of offerings. You have seen our L.A. temple and how nicely the pujaris are doing everything. So, in the same way, try and make your worship equally nice. In that way you will have the full blessings of Srimati Radharani.
I humbly thank all of the boys and girls who are living in the temple for helping me to spread this Krishna Consciousness Movement throughout the world.
Hope this will meet you in good health.
Your ever well-wisher,



A.C. Bhaktivedanta Swami
ACBS/adb
Sriman Tulsidas Brahmachary
368 [unclear] Blvd.
San Diego [unclear]