690708 - Letter to Brahmananda written from Los Angeles
From Vanisource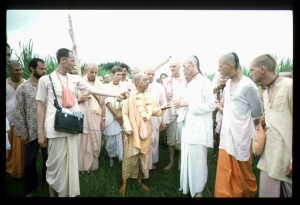 July 08, 1969

My Dear Brahmananda,
Please accept my blessings. I am in due receipt of your letter dated July 2, 1969, and I thank you very much for it. Regarding your proposal for soliciting members, this is not a good proposal. We tried for membership in the beginning, and it was not successful. Collection by Sankirtana Party is the best process, along with selling our books and magazines by organized sale. But you can advertise for membership, and when somebody inquires, you can give him your chart for membership. But do not advertise it. You can simply invite people that we invite all sincere souls to become our serious members. I am enclosing a copy of a letter addressed to Mr. Kair, which may be published so people may know what is the practical advantage of becoming a member of this society.
You are correct that Tamala Krishna's endeavor is very successful, and we should cooperate with him fully, and other centers should follow the same principles to make it successful. Recently, Tamala Krishna has sent Madhudvisa to San Francisco to organize the temple there, and as soon as he had gone there, the Sankirtana collection has become raised from $17 to $70. So in this way we should help all the centers, and in the future both you and Tamala Krishna, assisted by the others, should be the main guiding stars of the society. You have written that you have given $350 to India, but I do not know why. Do not send any money to the United Shipping Corporation, because last time we advanced $500, and it has become a pinprick to realize it. I think you have sent a letter of credit, but no direct payment should be sent to them.
I understand that Krishna Das has sent a ticket for my going to Germany on the 25th of June. I do not know where is this ticket; I have not received it. Anyway, I think I shall be going to Germany after the San Francisco Ceremony, via New York. I understand the ticket is from New York to Luxembourg, so I think from San Francisco I shall go to New York, and from there I shall go on to Luxembourg. If you have received the ticket, please let me know. Regarding MacMillan, if they will not print our Bhagavad-gita As It Is in hard bound then why not publish our own edition of the book, enlarge and revised hard bound? We cannot be checked by their decision to print or not to print our books. The paper bound copies may be taken from them, and then our own bookbinders can turn them into hard bound editions by pasting the cover on cardboard only. In this case, MacMillan should give us special concession. Anyway, the best thing will be to arrange
[PAGE MISSING]