690315 - Letter to Krishna dasa written from Hawaii
From Vanisource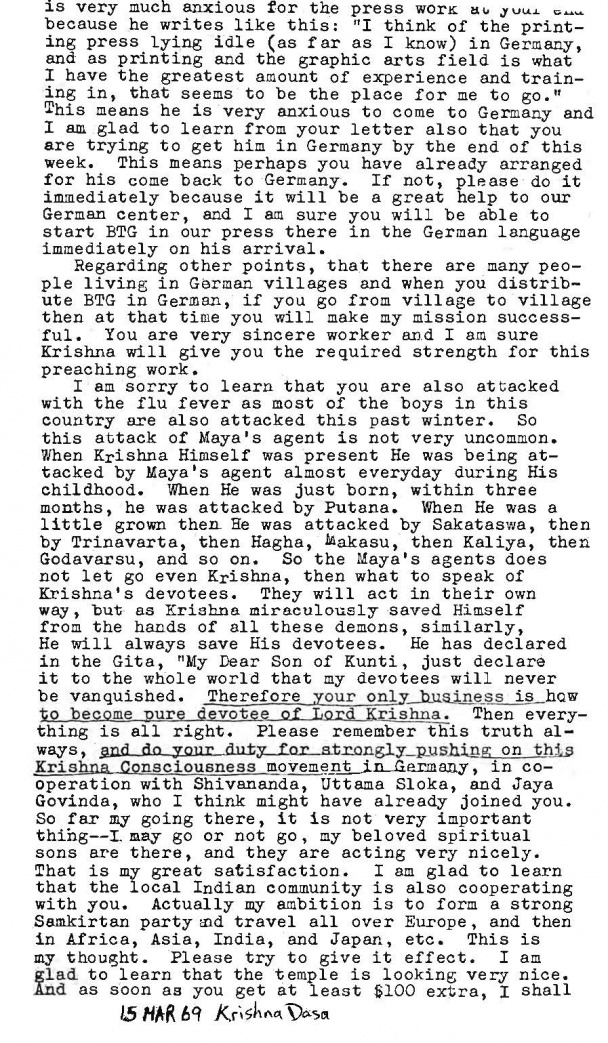 March 15, 1969

My Dear Krishna das,
Please accept my blessings. I am in due receipt of your letter of March 2, 1969, along with the German handbill, which appears to be very nicely presented. I could not read anything save and except the known lines of Hare Krishna, and A.C. Bhaktivedanta Swami. So the press work is started and I am sure as soon as Jaya Govinda arrives in Germany the press work will go on in full swing. Jaya Govinda is very much anxious for the press work at your end because he writes like this: "I think of the printing press lying idle (as far as I know) in Germany, and as printing and the graphic arts field is what I have the greatest amount of experience and training in, that seems to be the place for me to go." This means he is very anxious to come to Germany and I am glad to learn from your letter also that you are trying to get him in Germany by the end of this week. This means perhaps you have already arranged for his come back to Germany. If not, please do it immediately because it will be a great help to our German center, and I am sure you will be able to start BTG in our press there in the German language immediately on his arrival.
Regarding other points, that there are many people living in German villages and when you distribute BTG in German, if you go from village to village then at that time you will make my mission successful. You are very sincere worker and I am sure Krishna will give you the required strength for this preaching work.
I am sorry to learn that you are also attacked with the flu fever as most of the boys in this country are also attacked this past winter. So this attack of Maya's agent is not very uncommon. When Krishna Himself was present He was being attacked by Maya's agent almost everyday during His childhood. When He was just born, within three months, he was attacked by Putana. When He was a little grown then He was attacked by Sakataswa, then by Trnavarta, then Hagha, Makasu, then Kaliya, then Godavarsu, and so on. So the Maya's agents does not let go even Krishna, then what to speak of Krishna's devotees. They will act in their own way, but as Krishna miraculously saved Himself from the hands of all these demons, similarly, He will always save His devotees. He has declared in the Gita, "My Dear Son of Kunti, just declare it to the whole world that my devotees will never be vanquished." Therefore your only business is how to become pure devotee of Lord Krishna. Then everything is all right. Please remember this truth always, and do your duty for strongly pushing on this Krishna Consciousness movement in Germany, in cooperation with Sivananda, Uttama Sloka, and Jaya Govinda, who I think might have already joined you. So far my going there, it is not very important thing—I may go or not go, my beloved spiritual sons are there, and they are acting very nicely. That is my great satisfaction. I am glad to learn that the local Indian community is also cooperating with you. Actually my ambition is to form a strong Sankirtan party and travel all over Europe, and then in Africa, Asia, India, and Japan, etc. This is my thought. Please try to give it effect. I am glad to learn that the temple is looking very nice. And as soon as you get at least $100 extra, I shall ask you immediately to get some temple goods from India; when you are ready with the money, I shall let you know farther on this matter.
I have received from London pictures, and it appears things are going there also very nice. No letter from you is useless for me—they are all important. And you can write as long a letter as you can. I shall read them carefully with attention in spite of my various duties always. Regarding the tape lecture which you requested, I have got the copy in L.A. most probably, so I shall have to send it to you when I get back to the mainland.
All the devotees are very much thankful here for your good wishes, and they also are hoping all is going well there for you, and are feeling your separation as well.
I hope you are all feeling happy and well in Krishna Consciousness.
Your ever well wisher,
[unsigned]
A.C. Bhaktivedanta Swami