681217 - Letter to Gaurasundara written from Los Angeles
From Vanisource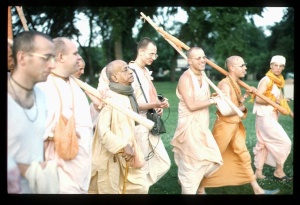 December 17, 1968

My Dear Gaurasundara,
Please accept my blessings. I beg to acknowledge receipt of your letter dated December 12, 1968 and I have noted the contents. I am glad that you have also received my previously sent letters. I have also handed over your letter for Govinda Dasi.
I am very sorry to learn that this girl Madhavi Lata has gone there and created some disturbance. If she is still there, ask her to live separately and she may come only during kirtana performances. This girl appears very disturbing and every place she goes there seems to be some trouble. Please try to keep her away carefully and ask her to come back here because immediately there is no chance of my going to Hawaii. Just today I have got one press conference in the temple and after this there will be more propaganda work. There is scheduled another press conference by January 22, 1969, so at least for one month more there is no chance of my going to Hawaii. If I leave abruptly now the program here will be disturbed. Better is I wait until we finish the engagement in Los Angles. In the meantime I will try to pick up some devotees to join you. I am glad to note that an asrama will attract interested students from all over the world. Please try to organize this asrama in cooperation with Murari. I am asking Purusottama and others to search out some brahmacaris to go there to assist you.
I am also still more encouraged that you propose to build a temple and secure some land in the main island of Hawaii. I think that my presence in Hawaii will be nice when you are still more in sound footing there. So you arrange your program in that way.
Better would be that you and my other dear disciples try to manage all centers as far as possible independently. For me, in my old age, moving constantly does not suit my health. The Los Angeles climate is not unsuitable for me so I am thinking of making my head-quarters here because it is very important city also. But as soon as there is the need of my presence some place I must go where I am required. On this principle please prepare to work. Regarding Govinda Dasi, she can immediately start for Hawaii if you send her the passage fare.
Please convey my blessings to the others with you and I hope this finds you all in good health.