670427 - Letter to Sripada Nripen Babu written from New York
From Vanisource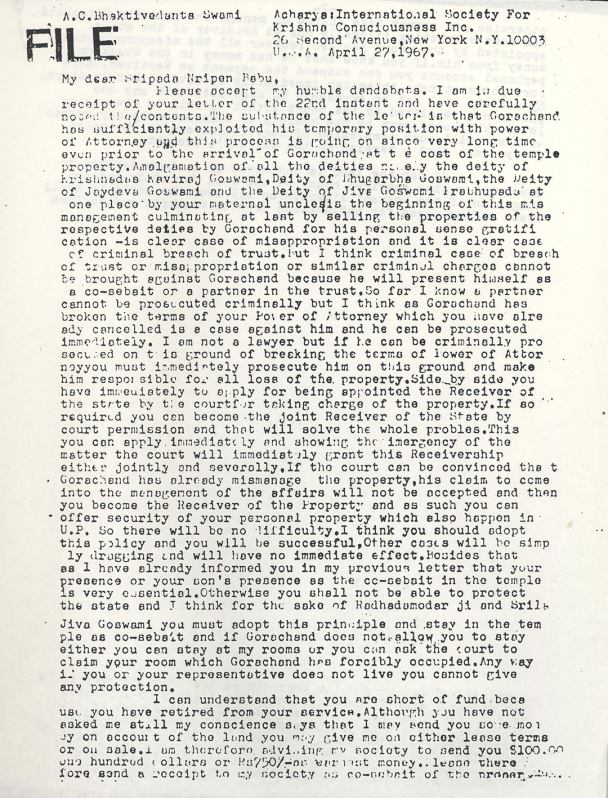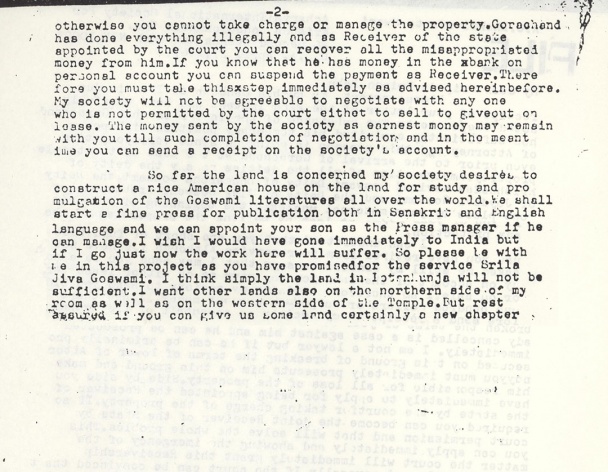 A.C. Bhaktivedanta Swami
Acharya: International Society For
Krishna Consciousness Inc.
26 Second Avenue, New York N.Y.10003
U.S.A. April 27,1967

My Dear Sripada Nripen Babu,
Please accept my humble dandabats. I am in due receipt of your letter of the 22nd instant and have carefully noted the contents. The substance of the letter is that Gorachand has sufficiently exploited his temporary position with power of Attorney and this process is going on since very long time even prior to the arrival of Gorachand at the cost of the temple property. Amalgamation of all the deities namely the deity of Krishnadas Kaviraj Goswami, Deity of Bhugarbha Goswami, the Deity of Jaydeva Goswami and the Deity of Jiva Goswami Prabhupada at one place by your maternal uncle is the beginning of this mismanagement culminating at last by selling the properties of the respective deities by Gorachand for his personal sense gratification -is clear case of misappropriation and it is clear case of criminal breach of trust. But I think criminal case of breach of trust or misappropriation or similar criminal charges cannot be brought against Gorachand because he will present himself as a co-sebait or a partner in the trust. So far I know a partner cannot be prosecuted criminally but I think as Gorachand has broken the terms of your Power of Attorney which you have already cancelled is a case against him and he can be prosecuted immediately. I am not a lawyer but if he can be criminally prosecuted on this ground of breaking the terms of Power of Attorney you must immediately prosecute him on this ground and make him responsible for all loss of the property. Side by side you have immediately to apply for being appointed the Receiver of the state by the court for taking charge of the property. If so required you can become the joint Receiver of the State by court permission and that will solve the whole problem. This you can apply immediately and showing the emergency of the matter the court will immediately grant this Receivership either jointly and severally. If the court can be convinced that Gorachand has already mismanaged the property, his claim to come into the management of the affairs will not be accepted and then you become the Receiver of the Property and as such you can offer security of your personal property which also happen in U.P. So there will be no difficulty. I think you should adopt this policy and you will be successful. Other cases will be simply dragging and will have no immediate effect. Besides that as I have already informed you in my previous letter that your presence or your son's presence as the co-sebait in the temple is very essential. Otherwise you shall not be able to protect the state and I think for the sake of Radha Damodar ji and Srila Jiva Goswami you must adopt this principle and stay in the temple as co-sebait and if Gorachand does not allow you to stay either you can stay at my rooms or you can ask the court to claim your room which Gorachand has forcibly occupied. Any way if you or your representative does not live you cannot give any protection.
I can understand that you are short of fund because you have retired from your service. Although you have not asked me still my conscience says that I may send you some money on account of the land you may give me on either lease terms or on sale. I am therefore advising my society to send you $100.00 one hundred dollars or Rs 750/- as earnest money. Please therefore send a receipt to my society as co-sebait of the property otherwise you cannot take charge or manage the property. Gorachand has done everything illegally and as Receiver of the state appointed by the court you can recover all the misappropriated money from him. If you know that he has money in the bank on personal account you can suspend the payment as Receiver. Therefore you must take this step immediately as advised herein before. My society will not be agreeable to negotiate with any one who is not permitted by the court either to sell or give out on lease. The money sent by the society as earnest money may remain with you till such completion of negotiation and in the meantime you can send a receipt on the society's account.
So far the land is concerned my society desires to construct a nice American house on the land for study and promulgation of the Goswami literatures all over the world. We shall start a fine press for publication both in Sanskrit and English language and we can appoint your son as the Press manager if he can manage. I wish I would have gone immediately to India but if I go just now the work here will suffer. So please be with me in this project as you have promised for the service of Srila Jiva Goswami. I think simply the land in Lotankunja will not be sufficient. I want other lands also on the northern side of my room as well as on the western side of the Temple. But rest assured if you can give us some land certainly a new chapter
[TEXT MISSING]