Radharani

Krishna

Caitanya

God

God's Holy Names

Krishna Consciousness Movement

Who Is Srila Prabhupada

his Timeline

Months in his Life

Training his Disciples

Questions

Bhagavad-gita

Devotees of God

Devotional Service to God

Discipleship

Guru / Acharya

Essential Subjects

Nectar Drops

What's in Vanipedia now

Glorious Personalities

Yoga

Collaborate with us to invoke and fully manifest Srila Prabhupada's Vani-presence.
---
SB 8.2.5
From Vanisource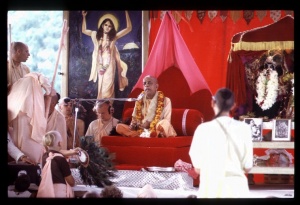 TEXT 5
siddha-cāraṇa-gandharvair
vidyādhara-mahoragaiḥ
kinnarair apsarobhiś ca
krīḍadbhir juṣṭa-kandaraḥ
SYNONYMS
siddha—by the inhabitants of Siddhaloka; cāraṇa—the inhabitants of Cāraṇaloka; gandharvaiḥ—the inhabitants of Gandharvaloka; vidyādhara—the inhabitants of Vidyādhara-loka; mahā-uragaiḥ—the inhabitants of the serpent loka; kinnaraiḥ—the Kinnaras; apsarobhiḥ—the Apsarās; ca—and; krīḍadbhiḥ—who were engaged in sporting; juṣṭa—enjoyed; kandaraḥ—the caves.
TRANSLATION
The inhabitants of the higher planets—the Siddhas, Cāraṇas, Gandharvas, Vidyādharas, serpents, Kinnaras and Apsarās—go to that mountain to sport. Thus all the caves of the mountain are full of these denizens of the heavenly planets.
PURPORT
As ordinary men may play in the salty ocean, the inhabitants of the higher planetary systems go to the ocean of milk. They float in the ocean of milk and also enjoy various sports within the caves of Trikūṭa Mountain.