Radharani

Krishna

Caitanya

God

God's Holy Names

Krishna Consciousness Movement

Who Is Srila Prabhupada

his Timeline

Months in his Life

Training his Disciples

Questions

Bhagavad-gita

Devotees of God

Devotional Service to God

Discipleship

Guru / Acharya

Essential Subjects

Nectar Drops

What's in Vanipedia now

Glorious Personalities

Yoga

Collaborate with us to invoke and fully manifest Srila Prabhupada's Vani-presence.
---
SB 10.11.7
From Vanisource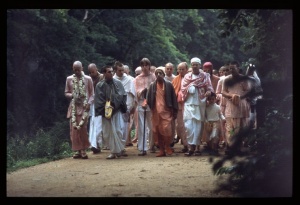 TEXT 7
gopībhiḥ stobhito 'nṛtyad
bhagavān bālavat kvacit
udgāyati kvacin mugdhas
tad-vaśo dāru-yantravat
SYNONYMS
gopībhiḥ—by the gopīs (by flattery and offers of prizes); stobhitaḥ—encouraged, induced; anṛtyat—the small Kṛṣṇa danced; bhagavān—although He was the Supreme Personality of Godhead; bāla-vat—exactly like a human child; kvacit—sometimes; udgāyati—He would sing very loudly; kvacit—sometimes; mugdhaḥ—being amazed; tat-vaśaḥ—under their control; dāru-yantra-vat—like a wooden doll.
TRANSLATION
The gopīs would say, "If You dance, my dear Kṛṣṇa, then I shall give You half a sweetmeat." By saying these words or by clapping their hands, all the gopīs encouraged Kṛṣṇa in different ways. At such times, although He was the supremely powerful Personality of Godhead, He would smile and dance according to their desire, as if He were a wooden doll in their hands. Sometimes He would sing very loudly, at their bidding. In this way, Kṛṣṇa came completely under the control of the gopīs.