Radharani

Krishna

Caitanya

God

God's Holy Names

Krishna Consciousness Movement

Who Is Srila Prabhupada

his Timeline

Months in his Life

Training his Disciples

Questions

Bhagavad-gita

Devotees of God

Devotional Service to God

Discipleship

Guru / Acharya

Essential Subjects

Nectar Drops

What's in Vanipedia now

Glorious Personalities

Yoga

Collaborate with us to invoke and fully manifest Srila Prabhupada's Vani-presence.
---
CC Madhya 8.168
From Vanisource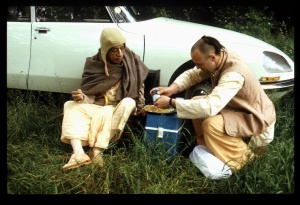 TEXT 168
lāvaṇyāmṛta-dhārāya tad-upari snāna
nija-lajjā-śyāma-paṭṭasāṭi-paridhāna
SYNONYMS
lāvaṇya-amṛta-dhārāya—in the shower of the nectar of bodily luster; tat-upari—over and above that; snāna—the bath; nija—own; lajjā—shyness; śyāma—blackish; paṭṭa—silk; sāṭi—garments; paridhāna—wearing.
TRANSLATION
"After Her midday bath, Rādhārāṇī takes another bath in the nectar of bodily luster, and She puts on the garment of shyness, which is Her black silk sari.
PURPORT
Over and above the other baths, the bath taken in the afternoon is taken in the nectar of full beauty. This nectar represents the personal qualities of beauty and luster. Thus there are three baths in different kinds of water. Rādhārāṇī then puts on two garments—a lower and an upper garment. The upper garment is pinkish and is Her affection and attraction for Kṛṣṇa, and the lower garment, a blackish silk sari, is Her shyness.