Radharani

Krishna

Caitanya

God

God's Holy Names

Krishna Consciousness Movement

Who Is Srila Prabhupada

his Timeline

Months in his Life

Training his Disciples

Questions

Bhagavad-gita

Devotees of God

Devotional Service to God

Discipleship

Guru / Acharya

Essential Subjects

Nectar Drops

What's in Vanipedia now

Glorious Personalities

Yoga

Collaborate with us to invoke and fully manifest Srila Prabhupada's Vani-presence.
---
CC Madhya 21.42
From Vanisource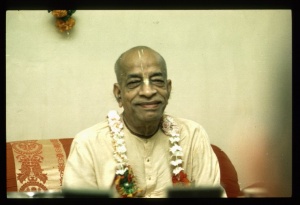 TEXT 42
ei artha—madhyama, śuna 'gūḍha' artha āra
tina āvāsa-sthāna kṛṣṇera śāstre khyāti yāra
SYNONYMS
ei artha—this explanation; madhyama—middle; śuna—please hear; gūḍha—confidential; artha—meaning; āra—another; tina—three; āvāsa-sthāna—residential places; kṛṣṇera—of Lord Kṛṣṇa; śāstre—in the revealed scriptures; khyāti—fame; yāra—of which.
TRANSLATION
"This is the middle meaning. Now please hear the confidential meaning. Lord Kṛṣṇa has three places of residence, which are well known from the revealed scriptures.
PURPORT
Kṛṣṇa has three abodes—His internal abode (Goloka Vṛndāvana), His intermediate abode (the spiritual sky) and His external abode (this material world).