Radharani

Krishna

Caitanya

God

God's Holy Names

Krishna Consciousness Movement

Who Is Srila Prabhupada

his Timeline

Months in his Life

Training his Disciples

Questions

Bhagavad-gita

Devotees of God

Devotional Service to God

Discipleship

Guru / Acharya

Essential Subjects

Nectar Drops

What's in Vanipedia now

Glorious Personalities

Yoga

Collaborate with us to invoke and fully manifest Srila Prabhupada's Vani-presence.
---
CC Madhya 2.90
From Vanisource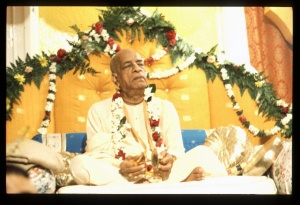 TEXT 90
āmi vṛddha jarātura, likhite kāṅpaye kara,
mane kichu smaraṇa nā haya
nā dekhiye nayane, nā śuniye śravaṇe,
tabu likhi'—e baḍa vismaya
SYNONYMS
āmi—I; vṛddha—old man; jarā-ātura—disturbed by invalidity; likhite—to write; kāṅpaye—trembles; kara—the hand; mane—in the mind; kichu—any; smaraṇa—remembrance; nā haya—there is not; nā dekhiye—I cannot see; nayane—by the eyes; nā śuniye—I cannot hear; śravaṇe—with the ears; tabu—still; likhi'—writing; e—this; baḍa vismaya—a great wonder.
TRANSLATION
I have now become too old and disturbed by invalidity. While I write, my hands tremble. I cannot remember anything, nor can I see or hear properly. Still I write, and this is a great wonder.