Radharani

Krishna

Caitanya

God

God's Holy Names

Krishna Consciousness Movement

Who Is Srila Prabhupada

his Timeline

Months in his Life

Training his Disciples

Questions

Bhagavad-gita

Devotees of God

Devotional Service to God

Discipleship

Guru / Acharya

Essential Subjects

Nectar Drops

What's in Vanipedia now

Glorious Personalities

Yoga

Collaborate with us to invoke and fully manifest Srila Prabhupada's Vani-presence.
---
CC Madhya 17.4
From Vanisource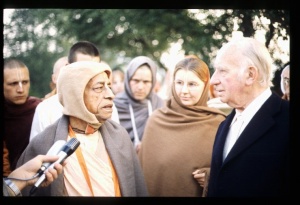 TEXT 4
"mora sahāya kara yadi, tumi-dui jana
tabe āmi yāñā dekhi śrī-vṛndāvana
SYNONYMS
mora—of Me; sahāya—help; kara—you do; yadi—if; tumi—you; dui jana—two persons; tabe—then; āmi—I; yāñā—going; dekhi—shall see; śrī-vṛndāvana—Śrī Vṛndāvana-dhāma.
TRANSLATION
The Lord requested Rāmānanda Rāya and Svarūpa Dāmodara Gosvāmī to help Him go to Vṛndāvana.