Radharani

Krishna

Caitanya

God

God's Holy Names

Krishna Consciousness Movement

Who Is Srila Prabhupada

his Timeline

Months in his Life

Training his Disciples

Questions

Bhagavad-gita

Devotees of God

Devotional Service to God

Discipleship

Guru / Acharya

Essential Subjects

Nectar Drops

What's in Vanipedia now

Glorious Personalities

Yoga

Collaborate with us to invoke and fully manifest Srila Prabhupada's Vani-presence.
---
CC Madhya 1.79
From Vanisource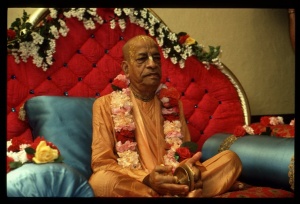 TEXT 79
rāja-veśa, hātī, ghoḍā, manuṣya gahana
kāhāṅ gopa-veśa, kāhāṅ nirjana vṛndāvana
SYNONYMS
rāja-veśa—royal dress; hātī—elephants; ghoḍā—horses; manuṣya—men; gahana—crowds; kāhāṅ—where; gopa-veśa—the dress of a cowherd boy; kāhāṅ—where; nirjana—solitary; vṛndāvana—Vṛndāvana.
TRANSLATION
She thought of Him in the calm and quiet atmosphere of Vṛndāvana, dressed as a cowherd boy. But at Kurukṣetra He was in a royal dress and was accompanied by elephants, horses and crowds of men. Thus the atmosphere was not congenial for Their meeting.