Radharani

Krishna

Caitanya

God

God's Holy Names

Krishna Consciousness Movement

Who Is Srila Prabhupada

his Timeline

Months in his Life

Training his Disciples

Questions

Bhagavad-gita

Devotees of God

Devotional Service to God

Discipleship

Guru / Acharya

Essential Subjects

Nectar Drops

What's in Vanipedia now

Glorious Personalities

Yoga

Collaborate with us to invoke and fully manifest Srila Prabhupada's Vani-presence.
---
CC Antya 20.13
From Vanisource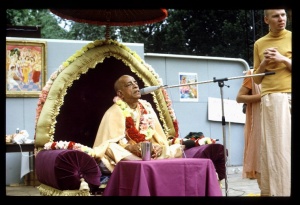 TEXT 13
saṅkīrtana haite pāpa-saṁsāra-nāśana
citta-śuddhi, sarva-bhakti-sādhana-udgama
SYNONYMS
saṅkīrtana haite—from the process of chanting the holy name; pāpa-saṁsāra-nāśana—annihilation of materialistic life resulting from sins; citta-śuddhi—cleansing of the heart; sarva-bhakti—all kinds of devotional service; sādhana—of the performances; udgama—awakening.
TRANSLATION
"By performing congregational chanting of the Hare Kṛṣṇa mantra, one can destroy the sinful condition of material existence, purify the unclean heart and awaken all varieties of devotional service.