Radharani

Krishna

Caitanya

God

God's Holy Names

Krishna Consciousness Movement

Who Is Srila Prabhupada

his Timeline

Months in his Life

Training his Disciples

Questions

Bhagavad-gita

Devotees of God

Devotional Service to God

Discipleship

Guru / Acharya

Essential Subjects

Nectar Drops

What's in Vanipedia now

Glorious Personalities

Yoga

Collaborate with us to invoke and fully manifest Srila Prabhupada's Vani-presence.
---
CC Antya 17.58
From Vanisource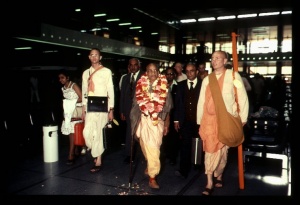 TEXT 58
autsukyera prāvīṇye, jiti' anya bhāva-sainye,
udaya haila nija-rājya-mane
mane ha-ila lālasa, nā haya āpana-vaśa,
duḥkhe mane karena bhartsane
SYNONYMS
autsukyera—of eagerness; prāvīṇye—because of high development; jiti'—conquering; anya—other; bhāva-sainye—soldiers of ecstasy; udaya—arising; haila—there was; nija-rājya-mane—within the kingdom of Her own mind; mane—within the mind; ha-ila—there was; lālasa—greed; nā—not; haya—becomes; āpana-vaśa—within Her own control; duḥkhe—in unhappiness; mane—to the mind; karena—does; bhartsane—chastisement.
TRANSLATION
Then great eagerness conquered all the other soldiers of ecstasy, and an uncontrollable desire arose in the kingdom of Śrīmatī Rādhārāṇī's mind. Greatly unhappy, She then chastised Her own mind.