Radharani

Krishna

Caitanya

God

God's Holy Names

Krishna Consciousness Movement

Who Is Srila Prabhupada

his Timeline

Months in his Life

Training his Disciples

Questions

Bhagavad-gita

Devotees of God

Devotional Service to God

Discipleship

Guru / Acharya

Essential Subjects

Nectar Drops

What's in Vanipedia now

Glorious Personalities

Yoga

Collaborate with us to invoke and fully manifest Srila Prabhupada's Vani-presence.
---
CC Antya 1.170
From Vanisource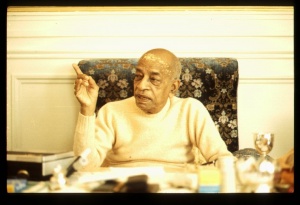 TEXT 170
vidhur eti divā virūpatāṁ śata-patraṁ bata śarvarī-mukhe
iti kena sadā śriyojjvalaṁ tulanām arhati mat-priyānanam
SYNONYMS
vidhuḥ—the moon; eti—becomes; divā—by daytime; virūpatām—faded away; śata-patram—he lotus flower; bata—alas; śarvarī-mukhe—in the beginning of evening; iti—thus; kena—with what; sadā—always; śriyā-ujjvalam—brilliant with beauty; tulanām—comparison; arhati—deserves; mat—of Me; priyā—of the dear one; ānanam—the face.
TRANSLATION
"'Although the effulgence of the moon is brilliant initially at night, in the daytime it fades away. Similarly, although the lotus is beautiful during the daytime, at night it closes. But, O My friend, the face of My most dear Śrīmatī Rādhārāṇī is always bright and beautiful, both day and night. Therefore, to what can Her face be compared?'
PURPORT
This verse (Vidagdha-mādhava 5.20) is spoken by Śrī Kṛṣṇa to Madhumaṅgala.