Radharani

Krishna

Caitanya

God

God's Holy Names

Krishna Consciousness Movement

Who Is Srila Prabhupada

his Timeline

Months in his Life

Training his Disciples

Questions

Bhagavad-gita

Devotees of God

Devotional Service to God

Discipleship

Guru / Acharya

Essential Subjects

Nectar Drops

What's in Vanipedia now

Glorious Personalities

Yoga

Collaborate with us to invoke and fully manifest Srila Prabhupada's Vani-presence.
---
CC Antya 1.146
From Vanisource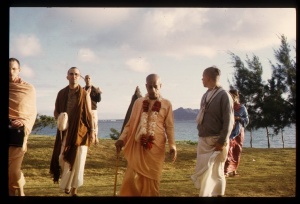 TEXT 146
akāruṇyaḥ kṛṣṇo yadi mayi tavāgaḥ katham idaṁ
mudhā mā rodīr me kuru param imām uttara-kṛtim
tamālasya skandhe vinihita-bhuja-vallarir iyaṁ
yathā vṛndāraṇye ciram avicalā tiṣṭhati tanuḥ
SYNONYMS
akārunyaḥ—very cruel; kṛṣṇaḥ—Lord Kṛṣṇa; yadi—if; mayi—unto Me; tava—your; āgaḥ—offense; katham—how; idam—this; mudhā—uselessly; mā rodīḥ—do not cry; me—for Me; kuru—do; param—but afterwards; imām—this; uttara-kṛtim—final act; tamālasya—of a tamāla tree; skandhe—the trunk; vinihita—fixed upon; bhuja-vallariḥ—arms like creepers; iyam—this; yathā—as far as possible; vṛndā-araṇye—in the forest of Vṛndāvana; ciram—forever; avicalā—without being disturbed; tiṣṭhati—remains; tanuḥ—the body.
TRANSLATION
"[Śrīmatī Rādhārāṇī said to Her constant companion Viśākhā:] 'My dear friend, if Kṛṣṇa is unkind to Me, there will be no need for you to cry, for it will not be due to any fault of yours. I shall then have to die, but afterwards please do one thing for Me: to observe My funeral ceremony, place My body with its arms embracing a tamāla tree like creepers so that I may remain forever in Vṛndāvana undisturbed. That is My last request.'"
PURPORT
This verse is Vidagdha-mādhava 2.47.