Radharani

Krishna

Caitanya

God

God's Holy Names

Krishna Consciousness Movement

Who Is Srila Prabhupada

his Timeline

Months in his Life

Training his Disciples

Questions

Bhagavad-gita

Devotees of God

Devotional Service to God

Discipleship

Guru / Acharya

Essential Subjects

Nectar Drops

What's in Vanipedia now

Glorious Personalities

Yoga

Collaborate with us to invoke and fully manifest Srila Prabhupada's Vani-presence.
---
CC Adi 3.22
From Vanisource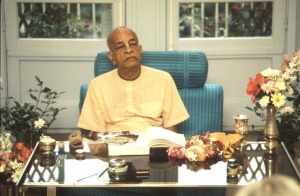 TEXT 22
yadā yadā hi dharmasya
glānir bhavati bhārata
abhyutthānam adharmasya
tadātmānaṁ sṛjāmy aham
SYNONYMS
yadā yadā—whenever; hi—certainly; dharmasya—of religious principles; glāniḥ—decrease; bhavati—there is; bhārata—O descendant of Bharata; abhyutthānam—increase; adharmasya—of irreligion; tadā—then; ātmānam—Myself; sṛjāmi—manifest; aham—I.
TRANSLATION
"'Whenever and wherever there is a decline in religious practice, O descendant of Bharata, and a predominant rise of irreligion—at that time I descend Myself.