Radharani

Krishna

Caitanya

God

God's Holy Names

Krishna Consciousness Movement

Who Is Srila Prabhupada

his Timeline

Months in his Life

Training his Disciples

Questions

Bhagavad-gita

Devotees of God

Devotional Service to God

Discipleship

Guru / Acharya

Essential Subjects

Nectar Drops

What's in Vanipedia now

Glorious Personalities

Yoga

Collaborate with us to invoke and fully manifest Srila Prabhupada's Vani-presence.
---
1956 Back to Godhead Volume 3 Part 09
From Vanisource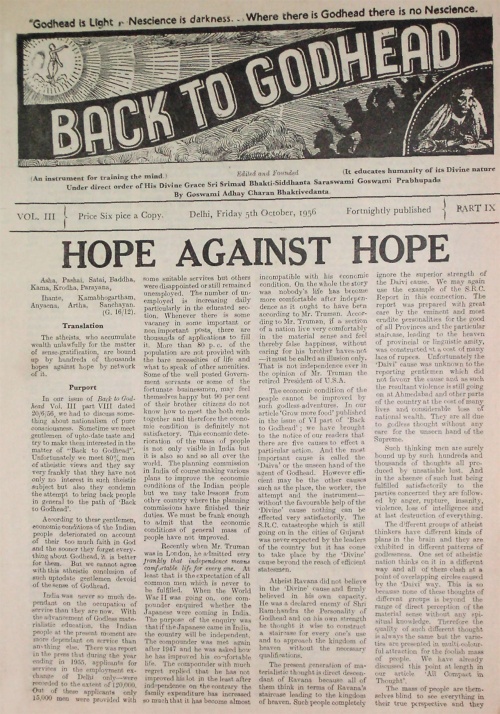 CONTENTS
Click the cover to download and read a PDF of the original BTG
Opinion of Shri K. D. Bajpai M. A. (letters to the editor)
Price Six pice a Copy.
DELHI, Friday 5th October, 1956
Fortnightly published.

Notice
The Editor has since changed his residential address as follows:-
Goswami Abhay Charan Bhaktivedanta
1797, RaniBagh Extn.
P.O. Shakurbasti-Delhi
Printed and Published by the Editor,
at Surendra Printers Private Ltd., Deputyganj, Delhi
and published by him from 'Back to Godhead' Office,
I. M. H. Press, Fountain, Delhi under declaration Dated 28-8-56.