1944 Back to Godhead Volume 1 Part 01-4
From Vanisource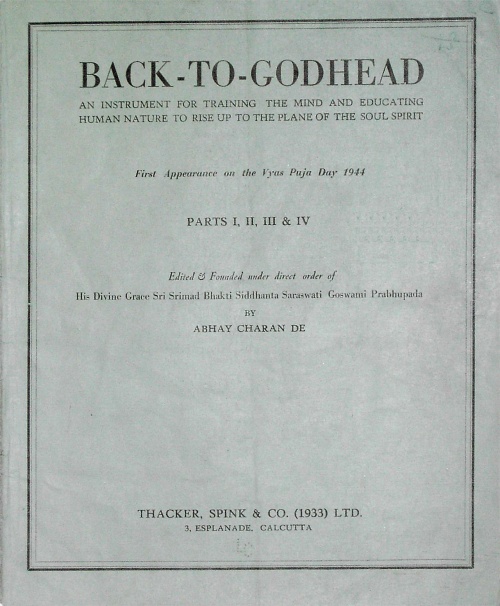 CONTENTS
Click the cover to download and read a PDF of the original BTG
Godhead and His Potentialities
The Science of Congregational Chanting of the Name of the Lord
The Highest Attainment and Present Adjustment - By a Tridandi Swami of Sreedham Mayapur
The Real Process of Approaching Godhead - By Radhagovinda Dass, B.A.
The Dawn - By Jogesh Chandra Bose, B.A.
The Essentials of Religion - By Tridandi Swami Bhakti Saranga Goswami

________________
"We have to defeat tyranny in the realm of thought, and create a will for world peace"

BACK-TO-GODHEAD
Will be published part by part as papers are available.
Price per part
INDIA ... ... ... ... ... Rs. 0-10-0
FOREIGN ... ... ... ... 1½ Shillings
Editor's Office:--- 6, SITA KANTA BANERJEE LANE, CALCUTTA
Published by Radhagovinda Das, B.A. from 6, Sitakanto Banerjee Lane, Calcutta
and Printed by S. N. Guha Ray, B.A. at Sree Saraswaty Press Ltd.,
32, Upper Circular Road, Calcutta.